AUCKLAND UNESCO CITY OF MUSIC
YOUNG GIG MAKERS GRANT
HE TAIOHI KAIWHAKARITE KAUPAPA
Universal Authors Just a very loud three piece indie/punk band and recipients of the Auckland City of Music Young Gig Makers Grant.
New Date Announced.

Universal Authors and Friends!
Sun 26 June, 2022
The Tuning Fork, Auckland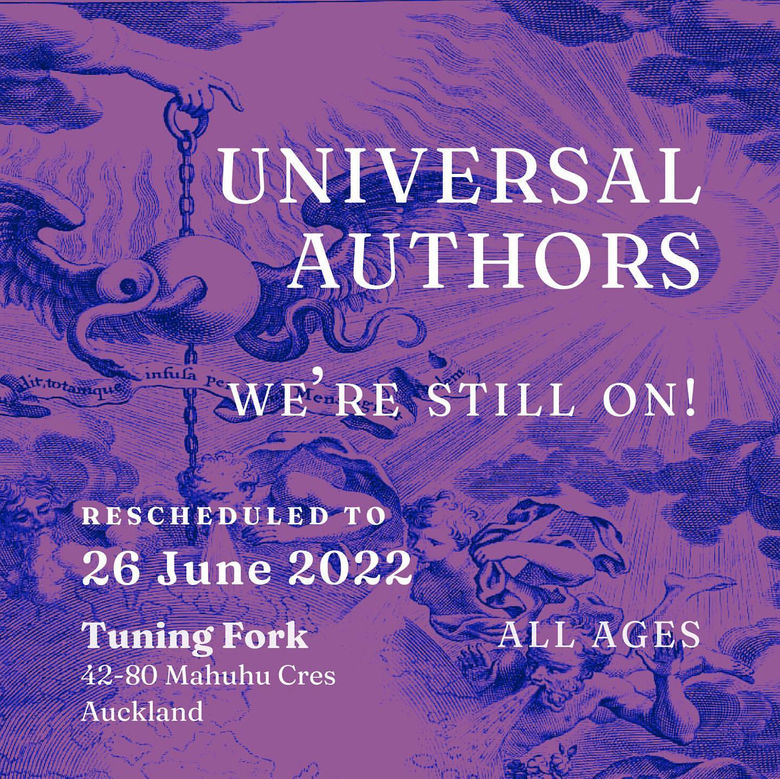 Max Earnshaw
Max Earnshaw brings a unique blend of Pop/Rock, backed by an uber amount of stage presence and a killer band. Christchurch born and now Auckland based, Max absolutely smashes it live across venues in NZ. He's released 5 singles with recognition on the NZ charts, Rock Radio and Media. Max mashes tasteful rock riffs and driving rhythm, with catchy and heartfelt lyric.
"His songs are reminiscent of pop rock/indie rock bands like Arctic Monkeys, The Strokes, The Kooks or Harry Styles. I loved the indie boy band feel; it really brought me back to raw live music" - muzic.net.nz
Haven
Queenstown raised, Wellington based indie-rock darlings, Haven, have taken Aotearoa's live scene by storm with their captivating and high-energy performances. The trio's melodic pop rock songs are centered around vocalist and bassist Ryan Connaghan's deliberate and transparent lyrics, and are driven by the tight foundation provided by guitarist and vocalist Tyrone Henderson and drummer Harrison Maguire. After the release of singles "The Right Way," and "Spotlight" in 2021, Haven has pushed their sound across the country, and they can't wait to meet you.
Keeley Shade
Canadian born - NZ raised, singer-songwriter Keeley Shade has emerged with music that takes visual lyricism and churns it through abstract Alt-Pop production and layered Rock instrumentation. Her debut single On My Mind received acclamation from a number of media, while also landing a spot on the Hot NZ Singles Top 20 and NZ On Air's New Tracks, with follow up five track EP Give Me Time also charting in the Top 20 NZ Albums alongside local heavy hitters. NZ Musician has compared her to the likes of Chelsea Jade and The XX, deeming her as 'already an accomplished songwriter'.
Benjamin Mack
Benjamin Mack has emerged into the New Zealand indie rock scene with a sound that incorporates a radical yet elegant
feel to truely put your soul at ease. Spending the past year in Parachute's Artist Development Program has helped him curate his craft. His strong vocals give a feeling of future nostalgia with his music drawing on inspiration from artists such as Julia Jacklin, Gang of Youths, and The War On Drugs and hinting to tones from the 70's.
Gig Info
On Saturday 14th May, some of NZ's hottest emerging Indie Rock acts will play this NZ Music Month, live at The Wintergarden.

This special, one-night-only gig will be bringing good times, great sounds, and a lineup of local talent that is not to be missed. Support the upcoming generation of music, get your tickets and get amongst it. Featuring Haven (Smokefree Rockquest 2019 finalists), Benjamin Mack (Parachute development artist) Max Earnshaw (featured on Radio Rock) and Keeley Shade (NZ-charting artist).

This event is part of NZ Music Month and aligned with Soundcheck Aotearoa.
This event will be live-streamed for those who can't make it to Auckland. This event is in line with NZ Music Month and Soundcheck Aotearoa.
Indie Rock in the Garden
Saturday 14 May
8.00pm
Get tickets here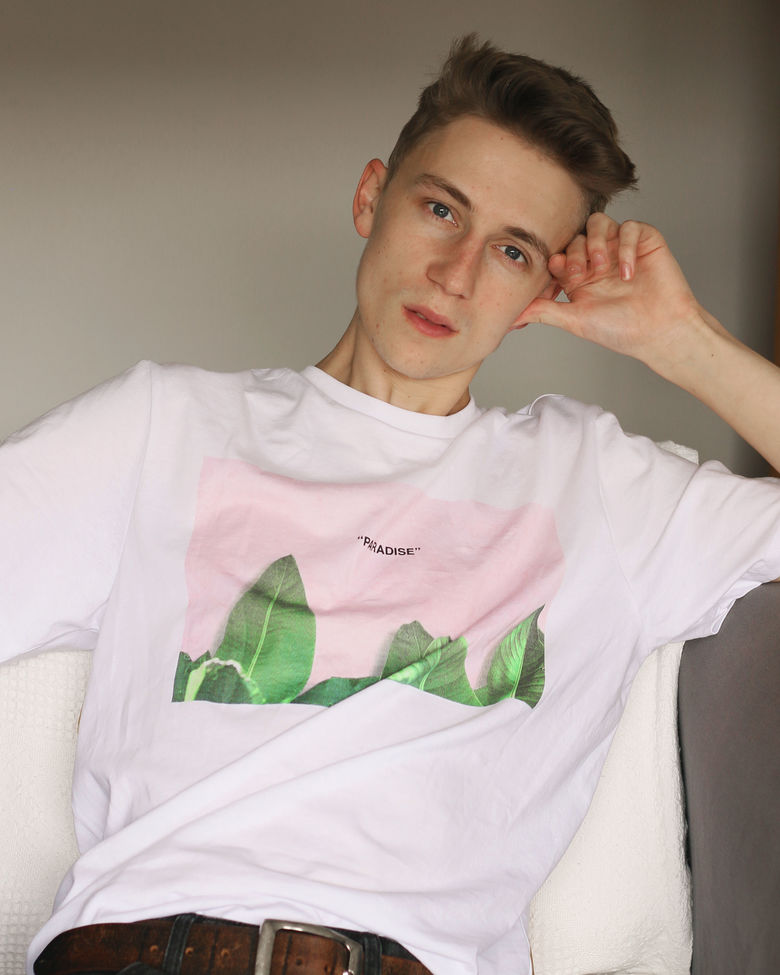 With her signature style of acoustic and synth-pop mixed with resolute rock, soft, humming vocals and a towering, operatic voice, Venice has recently captured the attention of Lady Gaga and P!nk's sound and recording wizards. "At 18 years old, Venice has a maturity and work ethic that draws parallels to many of the world's top artists I have worked with over the last 20 years," says Ratu Gordon, who has served as a head sound engineer for Lady Gaga's Enigma Concerts. Her voice is a revelation, immensely powerful. This compelling combination makes her a force to be reckoned with. Venice recently headlined a sold out concert at Auckland's Civic Theatre. Enticing the audience to come into her world of creativity, emotion and melody, this is a young woman who embraces life and passion in an infectious way.
VENICE "Queen of the Night"
7:30pm, Thu 10 February, 2022
The Tuning Fork, Auckland
Get Tickets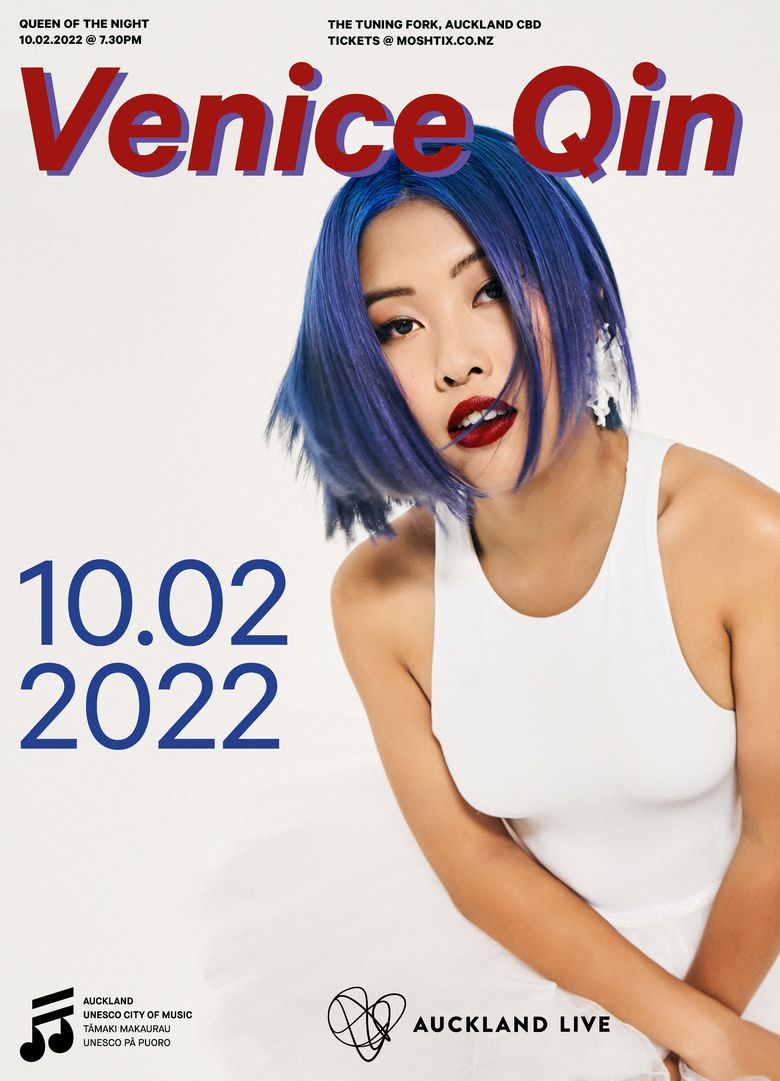 Born in Auckland, Tony began piano studies at the age of 5, and commenced lessons on violin, trumpet, and french horn shortly after. At the age of 21, his debut solo piano album "Homecoming" has recently been conceived and released with Rattle Records. As a Young Artist, he has concertised at the Wakatipu and Akaroa Music Festivals in New Zealand, as well as at prominent venues in Switzerland, Spain and Canada where he also studied at Summer programmes with distinguished musical artists.
Tony has been pursuing and undergraduate degree at the Eastman School of Music in Rochester, New York with Prof. Alan Chow, and is a recipient of the Martha Stone Scholorship. He was the winner of the 2019 Wallace National Piano compeition, and has since appeared as a concerto soloist with the Bach Music Orchestra and Nelso Symphony.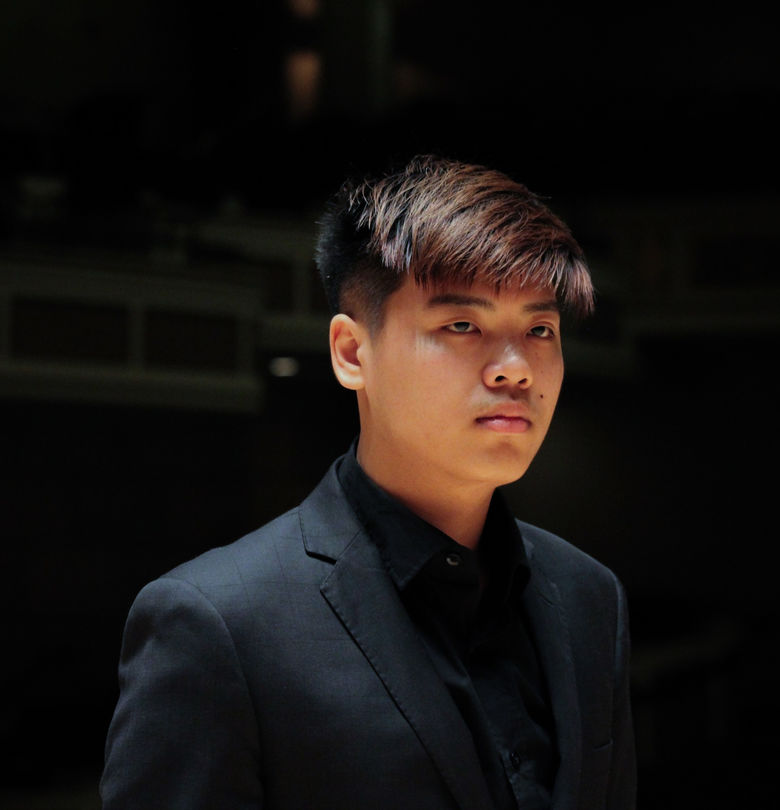 Kiera Sumner, a 17 year old from Auckland. From age 14 she has had a huge drive and connection to creating charity concerts. This sparked a passion towards the live events industry which led her to get involved and connected to many within the industry. Alongside some incredible people, Kiera and other artists created Grounded Sounds, for Music Helps. Kiera is incredibly grateful to have gained the opportunity to create Fusion Sounds. Kiera would like to thank Auckland City of Music for allowing young people to gain such experiences and hands on knowledge.
Kiera talks to George FM about her gig.
Listen here.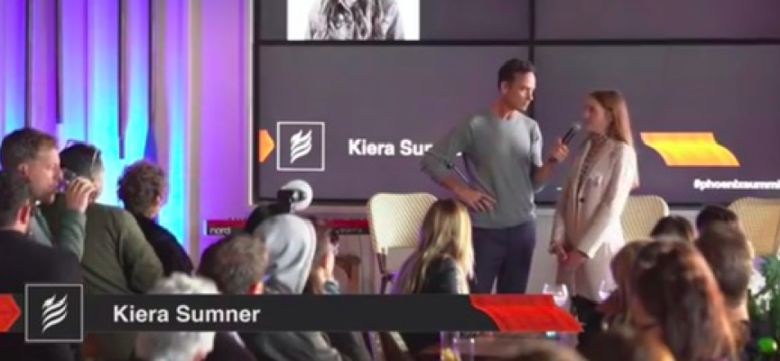 Rising 24 year old Auckland Artist Sam V is spearheading the new generation of R&B in NZ. A noted singer/songwriter, performer, choirmaster and director, Sam V has been working diligently to create platforms engraved within the kaupapa of elevating fellow young & ascending talent.

One of those platforms is Auckland based collective, Young & $lept On (Y$O). Started in 2019 by Sam V and producer, EDY - the duo noticed a lack of live performance opportunities for growing artists. Not to be discouraged, they started hosting their own shows at various K Road venues, gradually rising from smaller venues (such as the Wine Cellar) to the esteemed Tuning Fork, which Y$O has sold out twice.

Having hosted 10 shows in Auckland over the last 2 years, Y$O has fast built a reputation for showcasing and promoting some of the best talent NZ has to offer including Aidan Fine, JARNA, Kaysh, Rei, Mikey Mayz, bKIDD, Church & AP, Cee Blu, Disciple Pati & The Westernguide.

On Saturday April 9th in tandem with Auckland City of Music (ACOM) and AucklandLive, Sam V is excited to announce Y$O's first ever Southside Showcase, taking place at the Mangere Arts Centre featuring a host of rising and established talent such as Disciple Pati, Sonatane Kaufusi, JARNA, William Fepuleai, D Money the Don and Y$O.
Y$O Presents: Y$O Southside Showcase
Saturday April 9th
Mangere Arts Centre
Get Tickets here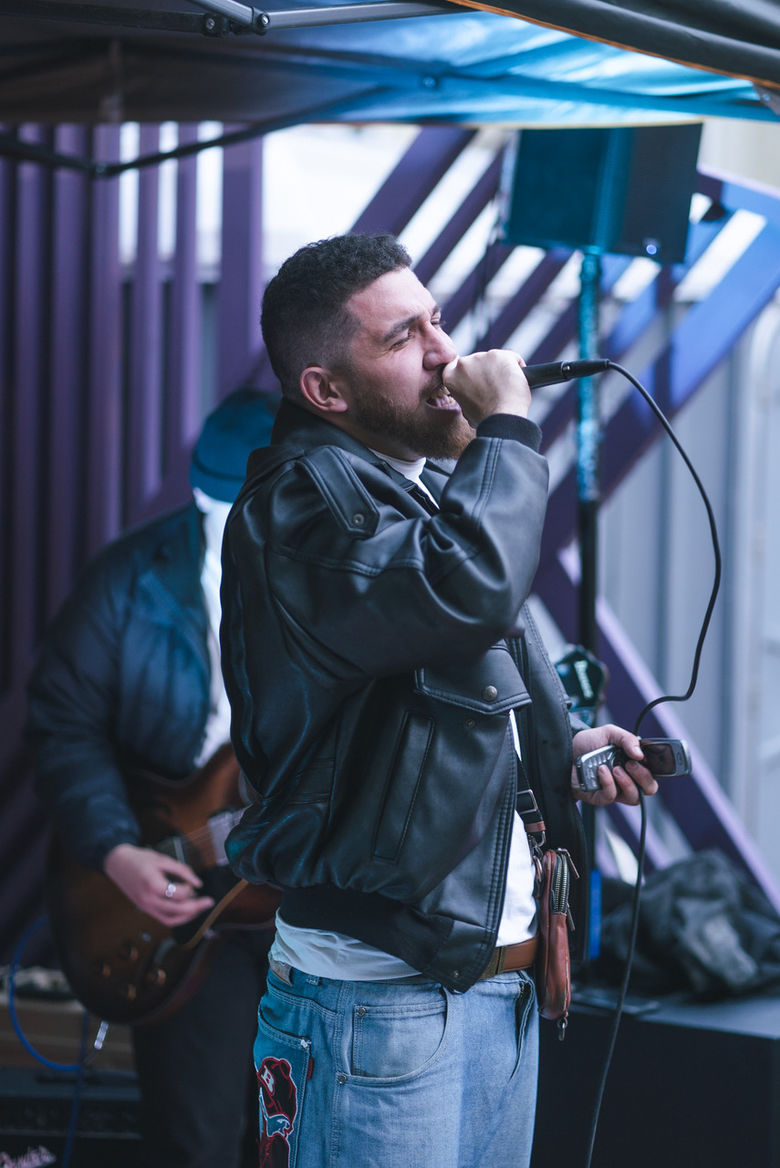 Koen Aldershof (Odds and Ends)
Odds & Ends are frothing to bring you their latest single "Something Else" and an oversized release party at the Tuning Fork! The new single is a genre blender and balances on a tightrope between indie-rock and alternative pop. This is our most "kiwi-sounding" song yet and we mixed and mastered this one completely remotely and completely DIY.
Their last single Picture reached some new milestones for the band, but unfortunately, its all-ages release show was cancelled due to another Covid lockdown. It did create an opportunity for the band to remotely finish their latest single, Something Else, and plan their biggest show yet. Odds & Ends will hit the stage at the iconic Tuning Fork in Tāmaki Makaurau to celebrate the release of their new single, an all-ages show with support from more locals Flaxxies, Borderline, and Coast Arcade.
April 23 2022
7.30pm
The Tuning Fork
Get tickets here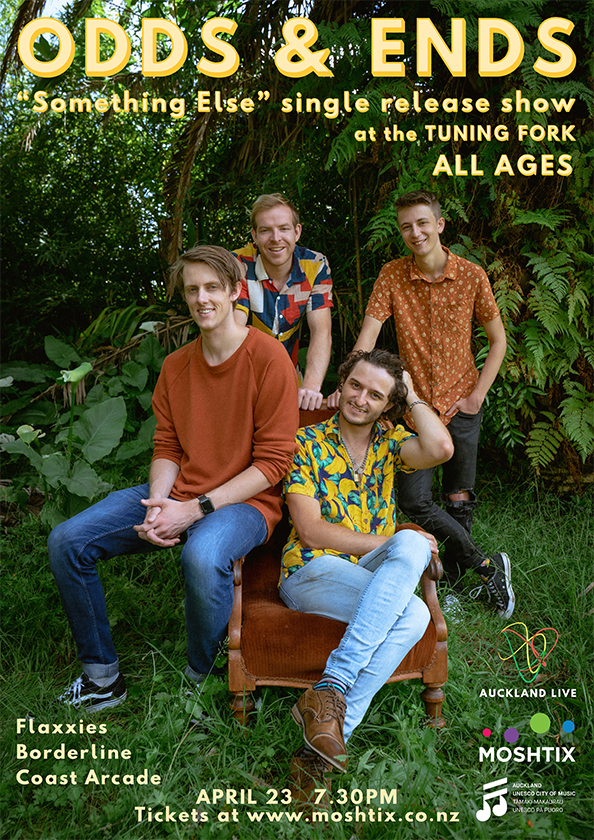 Lara Marie, 18, is an Auckland based independent event promoter and tour manager specialising in All Ages events. Getting her start through Auckland Live's IGNITE programme in 2018, Lara has since toured and worked with the likes of Elemeno P, The Feelers and Skinny Hobos. She has her sights set on supporting the resurgence of a healthy and thriving All Ages music scene and believes there is a lot to gain from providing safe spaces for young people to express themselves. The UNESCO gig-makers grant will be of great help for Lara – "The biggest hurdle when hosting All Ages events is definitely funding; Our venue options are often limited, expensive, and not set-up for shows." Lara will be hosting her show at Grey Lynn Library hall in November.
Taking inspiration from artists such as Clairo and Mallrat, Char combines soft, intimate lyrics and vocals that drip with emotion to create songs about heartbreak, love and life in an indie style.


Parkdale is a small band based in NZ, Auckland. William the drummer and Solomon (Solless on spotify) being the lead vocalist and lead guitarist. The band formed in November of 2020 and have been playing since then. William had started a band called Winter's Bloom with his two friends Alex and Ronan. In late November, Solomon was asked to be the lead vocalist and guitarist. Soon Alex and Ronan had left the band and it was and still is Solomon and Will. The name Parkdale came from the name of Williams street because that's where they practice. Since then Parkdale has played in places such as Flying Out Records and Anthology Lounge. Music inspired from artists like The Backseat Lovers and Arctic Monkeys. They identify to be part of the indie alternative acoustic genre.
Alexis Rowe, Leon Seufert + Rosaleigh Roberts